PERIJA PLUS Smart Acoustic Water Leak Detector
Brand: High Sense Solutions Inc.
PERIJA PLUS™ is a professional NRW (Non-Revenue Water) Reduction equipment. This newest water leak detector works in wide frequency range with 9 band-pass filters and has been equipped with additional filteROT™ function. This accurate, sensitive and innovative water leak detection system has been equipped with Internal GPS, Bluetooth‌ and Memory.
PERIJA PLUS featuring an accurate surveying signals comparison system enables the operator to pinpoint difficult leaks.
PERIJA PLUS Main Features:
Sensitive Piezo Electric Pick-up Sensor (Suitable for metal and non-metal pipes)
9 Band-pass filters and filteROT Mode
Leak noise level recording function
Professional Color Display
Internal GPS with CEP 2.5m
Bluetooth for data transfer and Bluetooth headphones support
Data Logger with automatic save mode operation and 1,200,000 data frame capacity
Multi Languages display with Easy and Intuitive performance
Equipped with professional Android APP (HSS Water Leak Detection APP)
With Rechargeable Li-ion Battery
The PERIJA PLUS Professional and Smart Water Leak Detector
(NRW Reduction Equipment)
Wide Frequency Range, 9 Band-Pass Filters and filteROT ™ Mode
100 to 1200 Hz frequency range and 9 band-pass filters help users to find leakage at various depths and all types of pipe materials. Users also can use filteROT ™ Mode to understand and choose the best filter in their project.
Leak Noise Level Recording Function
The minimum and average noise level of places can be recorded in the Internal memory including date, time, GPS Data, and system information. This feature can be useful for checking, pinpointing, analysing, and reporting.
Data Transferring by Bluetooth®
Each time the device is turned on, creates a new project and stores information of each project. User can store 20 projects per day and save 2000 data frames per each project. On the other side, internal memory of the system has the capacity to save information of 30 days. It means totally 1,200,000 data frames could be saved on the memory.
User can use the Bluetooth® to transfer all or part of stored information or only leakage information to HSS Water Leak Detection APP (Utility Smart Assistant) Android.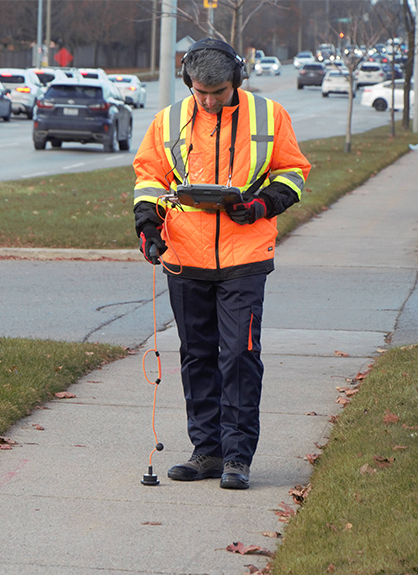 Professional Display
PERIJA PLUS has a wide and special display to easy use.
5" Color TFT with high brightness (1000 nuts) causes sunlight readable display.
this device can control the brightness depending on environment's light also customers can order two languages from our available languages list (English, French, Chinese, Japanese, Spanish, Persian, Arabic, Turkish
Dustproof and water-resistant structure   
PERIJA PLUS ™ has been equipped with dustproof and water-resistant functions. In the light raining and splashing time at operational site, PERIJA PLUS™ is completely protected.
GPS, Bluetooth Headphone & Internal Sensors
PERIJA PLUS™ has been equipped with internal GPS with CEP 2.5m that allows user to add location data to noise level information. User can use this information at GIS or Google Map for documentation and reporting.
For comfort using, this device supports wired Stereo and wireless Bluetooth headphones.
Also, to do power management and protect the system, PERIJA PLUS™ has been equipped with internal temperature and humidity sensors.
Rechargeable battery
PERIJA PLUS™ follows the High Sense Solutions Inc's policy in designing Environmentally Friendly Products. PERIJA PLUS™ has been equipped with Li-ion rechargeable battery pack that is unreachable.
After some years if user needs to change the batteries, should open the case and replace the battery easily.
Certification and Compliance (FCC, CE, ICES)
Federal Communications Commission (FCC) CFR 47, Part 15, Subpart B Class A Unintentional Radiators
NTERNATIONAL ELECTROTECHNICAL COMMISSION (International Special Committee on Radio Interference) CISPR 11:2009 + A1:2010 / EN 55011:2009 +A1:2010 CLASS A, GROUP 1 Industrial, Scientific, and Medical (ISM) Equipment
Innovation, Science and Economic Development, (ISED) Canada, ICES-003, ISSUE 6, CLASS A Verification Authorization – Information Technology Equipment (Including Digital Apparatus)
EUROPEAN STANDARD: EN 61326-1:2013 Electrical Equipment for Measurement, Control and Laboratory Use – EMC Requirements, Part 1: General Requirements (For General Location)
Product Application
Main and Supply Pipes Leak Detection
Distribution Pipes Leak Detection
Valve Leak Detection and Sound Check
Illegal Connection Detection
Non-Metallic Pipe Locating (If used vibration system on pipe access point)
Standard Equipment
PERIJA PLUS Main Unit (1)
Pick-Up Sensor and Hand Switch (1)
Stereo Headphone (1)
Li-ion Battery Pack Charger (1)
X Type Shoulder Strap (1)
Hard Carrying Case (1)
AIRCELL Shoulder Strap (1)
OPTIONAL ACCESSORIES

Contact Bar (3 x Contact bar (3 x 300mm) + Ø 40mm Disk Plate) (1)
Aviation Headphone (1)
The contents are subject to change without prior notice.
| | | |
| --- | --- | --- |
| | | |
| PERIJA PLUS Brochure-ENG-2020-V02 | | |
| PERIJA PLUS Technical Datasheet-ENG-2020-V2 | | |
| PERIJA PLUS User Guide -ENG- V2 | | |